HOW TO CREATE A SUGGESTION:
 
Please click on the agenda item in FirstAgenda Live
 
In Suggestions and propositions you will get an overview of all suggestions and propositions
 
Click on Add +
 
Image

Next, select Suggestion in the top and write your suggestion in the box
 
Image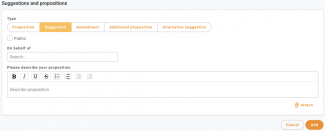 You need to choose if your suggestion should be public or not. If you tick off the box next to 'Public' all participants will be able to see the suggestion in their overview of the agenda item. If you choose not to tick off the box next to 'Public' the suggestion will only be visible from the administrator view.
 
Please select the participant you want to write the suggestion on behalf of.
 
Remember to press Add when you are done.
 
Please note: There is several types of suggestions. However, the function of them is the same, it is only the headline that changes.